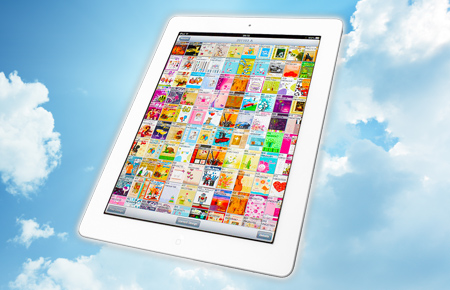 Take Orders on your iPad, iPhone, Tablet or Laptop using a bespoke Greeting Card App with minimal outlay.
See the images, Rack Plan details, Order History and Current Status together with relevant information dissemination. Runs on most portable devices.
Catalogues created in Card Manager or from Spreadsheet integration can
be produced in PDF format, and can also be accessed within the app for
ordering purposes.
Can optionally interface with a pocket Bluetooth scanner for products and Stock Control tickets.
Orders retrieved, via the internet, directly into your Order Processing system via
a simple interface.
Originally developed to interface into our Card Manager system, the Remote Sales system has now been expanded to be able to interface into most Accounting Systems such as SAP, Sage, etc., and an interface can be provided free of charge for other bespoke and standard Order Processing systems.
Evaluation System in iTunes as 'CM Remote Sales' or for further information contact Exponential. Customer Support.
UK +44 (0)1924 950500
USA +1 (617) 8618-517
Australia +61 (0) 7 3123 444